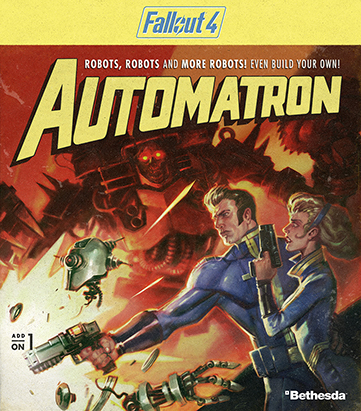 Released: Mar-22-2016
Price $9.99
Also on: XboxOne, PS4, & PC
Here is Mr. Mike's Review of Fallout4 Automatron which I played via on my XboxOne console this is part of the review click the like below it for the rest or click on Mr. Mike's Review List Link on the right side tab to read. Thanks Again for your support....
You like robits….? I mean robots? Of course you do. You like Fallout4? Yes! Well think about adding MORE robots to the wasteland of Fallout4 Plus a nice little story to go along with the DLC! Sounds fun doesn't it? Well here is my little review of Automatron the 1st DLC to hit for Fallout4.

This Fallout4 Automatron DLC hit on March 22nd 2016 for the XboxOne, PS4, & PC for $10 standalone purchase or $50 if purchasing the Season Pass.
The story description as follows is that the mysterious Mechanist has unleashed a horde of evil robots into the Commonwealth, including the devious Robobrain. Hunt them down and harvest their parts to build and mod your own custom robot companions. Choose from hundreds of mods; mixing limbs, armor, abilities, and weapons like the all-new lightning chain gun. Even customize their paint schemes and choose their voices!
Simply amazing isn't it? Well yes but make sure to be patient because this DLC does give you a bit of a run for your money in giving you a nice challenge in fighting packs of angry killen robots coming for you.

I also found that when 1st getting and downloading the DLC for the first time you may have to either restart the game once or in some cases restart your console in order to get the Automatron DLC to be shown in the Add-ons category in Fallout4.

I did the basic game reset to get the DLC to show up and it started just fine.

All you have to do in getting the DLC story to begin is to only start up your Fallout4 game save in which you have to be level 12 or higher for the mission to show up, then after it loads the story DLC shows up on the screen as well as in your mission list.
When first playing the mission to find the robot that I had to talk to was difficult for me to win the battle that I had to fight in order to find out what is going on. Finding the location was easy, but battling the pack of robots got me killed many times even at level 40+ with armor and advance weapons in my arsenal. Getting burned & blown up many of the times I died, just a note some robots are nuclear and they do blow up BIG TIME if you destroy them sending a small nuclear blast your way if not careful.

Still a blast of a time to fight them also level up faster while doing so.

The start of the mission story is interesting also by an individual called the Mechanist causing all this robot mayhem in the wasteland sending droves of rogue robots to cause all sorts of trouble.